MRS. GANDY TURNS 100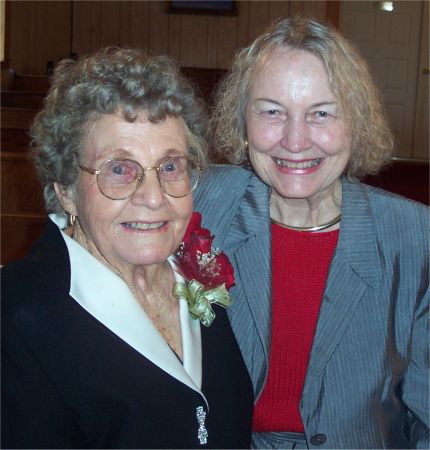 This photo of Liberty (Milam County) native Zeta Alpha Nelson Gandy, and daughter, was taken at Liberty Church on Sunday, March 17, 2002--the day Mrs. Gandy turned 100. Known by family and friends as "Tabby," Mrs. Gandy was born at home, located about a half mile from the church.
Mrs. Gandy married at age 16. Her husband Jim died in 1970.
At the time of the 100th birfhday party, Mrs. Gandy still lived on the nearby farm where her seven children were born. She was at the time the oldest living member of the 4-H Club. She started as a Tomato Club girl at age 10.
Mrs. Gandy died in 2005 at the age of 103. She and her husband are buried at Liberty Cemetery.

Click here to go back to James' home page.