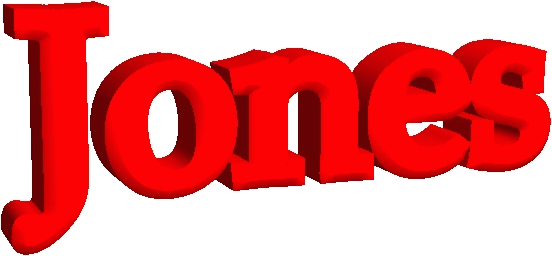 JOSEPH P. JONES
June 27, 2013
Joseph Patterson "J. P." JONES was born about 1798, probably in Kentucky. He was the son of Thomas and Elizabeth JONES of Christian County, Kentucky, Crawford County, Illinois, and Edgar County, Illinois.
J. P. Jones married Sarah "Sally" BRIMBERRY in 1819. Sally was the daughter of Isaac and Mary BEETHE BRIMBERRY of Bourban County, Kentucky.
In an effort to restore Sally's failing health, around 1833 she and J. P. traveled to Texas in an oxen-borne covered wagon, where J. P. obtained a Milam County, Texas land grant. The Milam County community of Jones Prairie takes its name from its location on the Jones land grant.
J. P. Jones served for about a year as a sergeant in Captain Thomas H. Barron's Company of Texas Rangers (apparently a Milam County militia organized to protect against Indian attack). In 1838, Jones was killed by Indians near Dawson in Navarro County, Texas while serving as a member of a surveying party. The victims of the attack were buried in a mass grave and Battle Creek Burial Ground is today marked by a state-erected monument.
Sally Jones resided on the Milam County land grant until her death in 1861. She was buried at Little River Baptist Church Cemetery, in Jones Prairie.
Many J. P. Jones descendants live in and around Milam County. While it would be impossible to acknowledge everyone who has contributed to this project, I will note that cousin Maxine Bailey Dittmer provided a large part of the information. Click
for a list of all J. P. Jones descendants known to me.


Click here to return to my home page.