1936 SENIORS
Milano High School (MHS), Milano, Texas
February 15, 2015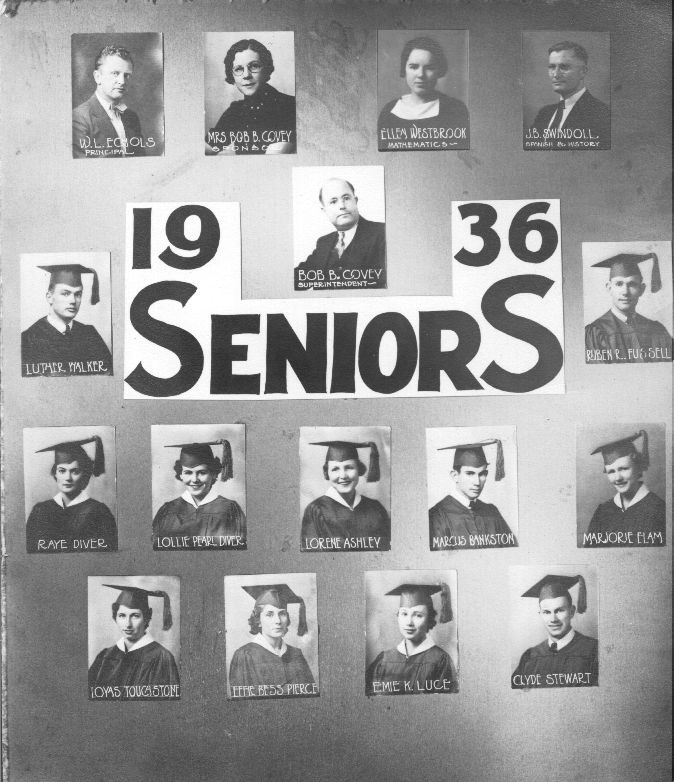 1. W. L. Echols was MHS Principal. He married Evelyn Newman, the daughter of Louis Newman and wife Millie Shaffner Newman. Mr. Echols is deceased. Evelyn lives in Port Arthur, Texas. (Thanks go out to Louise Mitcham Allen, formerly of Milano, for this information).
2. Anne Hayes Covey (1899 - 1972) was the class sponsor. Anne was married to Robert Bryan "Bob" Covey, MHS Superintendent. Former student Marjorie Elam Bailey remembered her as the best Engish teacher she knew--at any level.
3. Ellen Westbrook was MHS mathematics teacher. She did not marry.
4. J. B. Swindoll was MHS Spanish and history teacher.
5. Robert Bryan "Bob" Covey (1897 - 1941) was MHS Superintendent. After teaching in Milano, Mr. and Mrs. Covey moved to the Texas Hill Country.
6. James Luther Walker was the son of Thornton Elisha Walker and Elizabeth Lodema "Lizzie" Morgan Walker. Luther was an Army veteran of World War II, spending over three years in Europe. Except for this military service, Luther lived in or near Milano all of his life. In 1947 Luther married Florence Joy Rice and they had two children: James David Walker and Stephen Wyatt "Steve" Walker. Luther died on November 22, 2001. A lifelong rancher, Luther was for many years proprietor of Walker's Grocery and Service Station in Milano. He served as Milano city councilman, Milano school trustee, and Milano First Baptist Church deacon. He had one grandson--Sam Wyatt Walker (Steve's son).
7. Ransom Reuben "Cap" Fussell was the son of John and Ruth Deen Fussell. Cap was an Army veteran of World War II. He served overseas and spent much of his time there in Italy. Upon his return to the U.S., Cap became a professional chef. He married Tena Trippodo of Dickenson, Texas. They had two children, John and Mary. After many years of service at the V.A. Hospital in Houston, Texas, Cap was transfered to New Orleans, Louisiana. There he became a "head chef". He lived in New Orleans until his retirement in 1973. Cap then returned to Milano, Texas. He passed away on February 17, 1976. (SOURCE: Mary Fussell Daleo and Johnny Fussell)
8. Jessie Raye Diver Keen was the daughter of Ephraim Diver and Jessie Edna Price Diver. She married Lee C. Keen in 1939. They had two sons: Wayman Keen and Nolan Keen. Jessie Raye died on March 31, 1996. She was a life-long resident of Milam County and a 41-year Milano resident. She was a member of the Forest Grove Christian Church. She was a good cook and enjoyed crochet, quilting, and fishing. (SOURCE: Obituary)
9. Lottie Pearl Diver Bankston was the daugher of Robert and Pearl Diver. Lottie Pearl's nickname was "Toots." She married John Bankston, who was the older brother of her classmate Marcus Bankston. Toots and John had two sons: Gary Bankston and John Bankston. Toots died on November 22, 1983. Much of this information was provided by Lottie Pearl's son Gary.
10. Millie Lorene Ashley Conner was the daughter of Monroe Ashley and wife Mary Reese Ashley. Lorene married R. M. Conner. She lived in Huntsville, Texas from 1952 until her death on March 31, 2011. Lorene was retired from the Walker County tax office, where she worked for many years and served as chief deputy. She was survived by two children: Robert Eugene "Bobby" Conner, and Beverly Ann Conner Niederhofer. Lorene also was survived by grandchildren, great grandchildren, and great-great grandchildren.
11. James Marcus Bankston was the son of Claude and Jessie Hensley Bankston. Marcus married classmate Effie Bess Pierce. They had a daughter: Linda Bankston. Marcus operated a wholesale nursery. He was killed in an automobile accident in Navasota, Texas on February 4, 1965.
12. Marjorie Elam Bailey was the daughter of Joel Henry Elam and Louella Newton Elam. After graduating from Baylor University, Marjorie taught school in Milano. In 1940 she married Dr. Joe Weldon Bailey, a Baptist minister. They had four children: Roger William Bailey; Lou Beth Bailey Birdwell; Mary Jane Bailey Morgan; and, Joe Weldon Bailey II. Dr. Bailey and Marjorie spent their final years in Milano. He died in 2003 and she died in 2013.
13. Loyas Olene Touchstone Stephens was the daughter of Isaac and Bertie Touchstone. Loyas married Albert Ray Stephens. Albert died in 1994. Loyas died in Milam County, Texas on August 20, 1998. At the time of her death, Loyas lived at Rockdale, Milam County, Texas.
14. Effie Bess Pierce Bankston was the daughter of Charlie and Lizzie Dismore Pierce. Effie Bess married classmate Marcus Bankston. They had a daughter: Linda Bankston. Effie Bess is believed to have died in or around the year 2002.
15. Emie Kathryn Luce was born in Milano on July 27, 1917, the daughter of Robert Lee "Bob" Luce and wife Maud Nichols Luce. Kathryn married Barclay Jeter. They had a daugher, Kathy Jeter, who married Alan Johnston. Kathryn enjoyed bowling. She also enjoyed raising cattle on her Milano and Hoyte farms. A long-time resident of Rockdale, Texas, Kathryn died on December 22, 2003.
16. Clyde Mannchester Stewart was the son of James Andrew Stewart and Inez Davidson Stewart. Clyde was born July 16, 1915 in Texas. He died on November 8, 1992. A U.S. Army veteran, Clyde is buried at Arlington National Cemetery in Arlington, Texas.
If you have information about any of these students or staff, please share.


Click here to go to my home page.