MUSTANG PRAIRIE
Milam County, Texas
August 6, 2006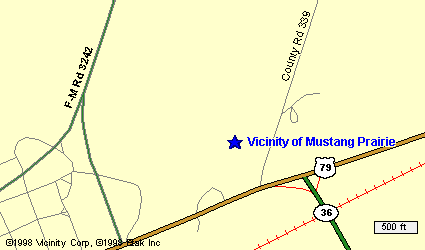 Mustang Prairie apparently was a Milam County, Texas community located near Milano. It may have been the name by which Milano was originally known.
The first-known reference to Mustang Prairie is an article said to be included in the National Gazette and Literary Register, Philadelphia, Pennsylvania, June 15, 1837 edition. The newspaper was offered for sale on eBay. The following is included in the description of news articles:
TEXAS - a body of 200 Indians appeared 15 miles from Nashville Texas, Milam County - they killed one man in sight of town, the main body went on the track of a wagon train to the fort on Little River, overtook the wagons and killed all the five men and the oxen, the Indians killed three men near Mustang Prairie named McLane and Marnes and stole some 100 horses - page two - 2 column inches.
The only other known reference to Mustang Prairie is found in two deeds dated December 14, 1874 and recorded at Volume A-1, Pages 756-57, Milam County, Texas Deed Records. J. D. Hooker thereby conveyed "a certain tract of land lying in Milam County and State of Texas near Mustang Prairie . . . ." The land thereby conveyed is a 160-acre tract lying in the Mary A. Sackett Survey, abutting County Road 339 (to the west) and Highway 79 (mostly to the north, a small part lying to the south). In the above map, the blue star discloses the general location of the land conveyed, such land being very near (if not within) the current city limits of Milano.
The Hooker deeds may have pre-dated the formal naming of Milano (which was accomplished via application for post office, filed after the railroad came through). Because it is located on the intersection of two railroads, Milano has also been referred to as Milano Junction.
Lelia M. Batte, in her History of Milam County, at p. 85, writes that the International Railroad Company began to acquire right of way in Milam County in 1873. Basil McGregor, in Milano, Texas--A History (1965) at p. 1, writes that Old Milano (located about one mile west of Milano's current location) "had its beginning in 1873 with construction of the International and Great Northern Railroad. A Post Office was established soon after . . ." Both Batte and McGregor relate the traditional story: that the post office application sought to name the town "Milam" but that for some reason postal officials approved the name "Milano." McGregor at p. 1; Batte at p. 167.
One story provides that the application for "Milam" was rejected because there already existed a Texas town called Milam. Milam County historian Lynna Kay Shuffield located a newspaper article which is consistent with this explanation, as follows:
Galveston Daily News - Sat., 16 July 1873, p. 4, c. 1 & 2:
Miscellaneous - Milam Messenger: It is reported that the new town on the International [& Great Northern Railroad - I&GN] is to be named MILAM CITY. This we hope, is not true, as we have a town by that name in Sabine county, and it is plain to all that if we have another, confusion is sure to occur. By all means, let us have another name. Its present one would be preferable to that contemplated.
The article's reference to the town's "present name" indicates that the town was renamed when the railroad came through. However, the town's prior name is not identified.
At least some portion of the railroads running through Milano was a product of convict labor. Willie Addison Posey, who was born in Burleson County in 1860, gave the following account:
One time I was over in Milam County looking for stray cattle. I passed through a little town by the name of Milano Junction. The convicts were building a railroad through there and the old guard pranced around on his fine steed with guns and black snake in readiness for anyone shirking his duty. An old fellow sat down and said, 'I'm sick, I can't hit another lick.' He was pale and weak; looked as if he would faint at any time. The damned old guard came by and gave him a lick with the black snake and yelled out an oath that he will never get by with. The old man made it to his feet and tried to work. I rode on; this was a horrible sight for anyone's eyes. When I came back a little later the old fellow was dead.
(SOURCE: American Life Histories: Manuscripts from the Federal Writers' Project, 1936-1940. Willie Addison Posey, San Angelo Texas, interviewed, January, 1938.)
Historian Shuffield found a newspaper article which further evidences the use of convict labor and an article which references a town called Rock Prairie:
Galveston Daily News - Sun., 24 August 1873, p. 4, c. 1:
Miscellaneous - Houston Age, Aug 22nd - The lessees of the penitentiary have made a contract with the International to furnish convicts to build 15-miles of that road west of Hearne. The force is to commence work immediately.
Miscellaneous - Milam Messenger, Aug. 20 - The first 15-miles of the International Railroad is about graded and that work will soon begin on the other 10-miles. The temporary bridge across the Brazos is nearly finished and as soon as the trains will be able to cross, the material for track laying will be brought over and that part of the work pushed forward rapidly. It is thought the road will be completed to the town near Rock Prairie by the first of October.
This is the only known reference to Rock Prairie. Although Batte lists many Milam County towns and communities (past and present), there is no mention of either Rock Prairie or Mustang Prairie. If anyone knows of any other references to Mustang Prairie or Rock Prairie (literary, oral history, etc.), please let me know.


Click here to return to my home page.