ANN RICE KEY

William and Carrie Rice's daughter Ann Rice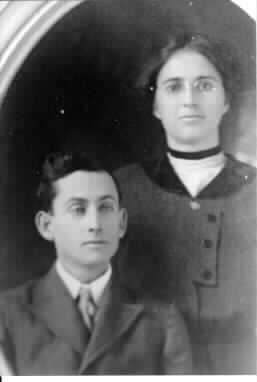 was born in Jones Prairie, Texas on August 3, 1885. Ann Rice married Thomas Egbert Key in Brown County, Texas on July 13, 1904. On the right is a photo of the couple.
Thomas Egbert and Ann Rice Key had ten children: Clara Ernestine "Dickie" Key; Carrie Helen Key; Ennis Egbert Key; Otho Armstead "Sonny" Key; Euna Ione Key; Zelma Routh Key; Thomas Egbert Key, Jr.; Doris Ann Key; Howard Patton Key; and, Robert Bruce Key.
Thomas Egbert Key, Sr. was born in Coryell County, Texas on November 17, 1880, the son of William Augustus Key and his wife Ellen Kornegay. Egbert Key's grandchildren called him "Dad Key."
In 1910, Egbert and Ann Rice Key lived in Haskell County, Texas. Egbert was in the newspaper business: he owned his own press.
Ann Rice Key's nephew, Irving Rice, recalled that Egbert and Ann Key resided in Brownwood when Irving and his parents moved there around 1920. Egbert Key worked for the local newspaper.
Thereafter, Egbert was employed as an accountant and bookkeeper in Cameron, Texas and in San Marcos, Texas. The Key family moved to San Marcos around 1927 so that the older two daughters could attend Southwest Texas State Teachers College (now Southwest Texas State University).
Egbert Key died in San Marcos on July 11, 1938 from complications following an appendicitis operation. At the time of his death Egbert was timekeeper in charge of WPA road workers.
After Mr. Key's death, Ann Rice Key moved to Freeport, Texas. She died on April 18, 1970. She is buried next to her husband at the San Marcos, Texas City Cemetery.


Click here to return to the William Henry Rice descendants page.
Click here to go to my home page.