WILLIAM HENRY "BUD" RICE

William and Carrie Rice's son William Henry "Bud" Rice was born at Jones Prairie, Texas on April 2, 1870.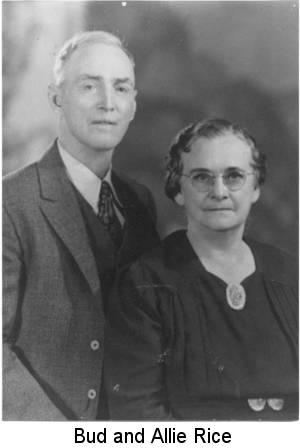 Bud Rice was a farmer.
Bud married Allison Estelle "Allie" Alexander in Milam County, Texas on December 22, 1897. Allie was born on February 20, 1878 in Pontotoc County, Mississippi and came with her parents to Texas in December of 1879. Allie's father believed that the Texas climate would improve his health; however, he died about a year after arriving in Texas. Thereafter, Allie's mother remarried and Allie used her stepfather's surname--Bailey.
Bud and Allie had six children who reached adulthood: Annie Mae Rice; Earl Alexander Rice; Mary Lee Rice; Dorothy S. Rice; Nettie Irene Rice; and, Agnes Olene Rice. In addition to these six children, Bud and Allie had a baby who was born and who died in 1912.
Bud and Allie lived in Brown County, Texas. Bud was a member and a deacon of the Bethel Baptist Church.
Bud Rice's niece, Carolyn Rice, recalled that Bud was a kind person who was everybody's friend. Mary Louise Rice, wife of Bud's nephew Lee Rice, Jr., remembered Bud for his good English and precise speech.
Allie died at May, Texas on June 8, 1948. Bud Rice died in Brownwood on October 8, 1961. Both Bud and Allie are buried in Brown County, Texas at Pleasant Valley Cemetery.


Click here to return to the William Henry Rice descendants page.
Click here to go to my home page.