WILLIAM HENRY RICE
His Life
January 12, 2002

Our William Henry Rice was born in Georgia in 1830. The earliest known record of William is an entry on the 1855 Milam County, Texas tax roll which indicates that William owned no property. Later Milam County tax rolls indicate that in 1857 William owned a horse valued at $75.00 and that by 1858 he owned two horses valued at $80.00.
William's occupation was listed as "carpenter" on the 1860 Census and as "saddler" on the 1870 Census. Although William later took up farming, family legend provides that he continued to make saddles as a sideline.
William joined the Milam County Grays, being Company G, Fifth Regiment, Texas Volunteer Infantry, Confederate States of America, on August 10, 1861, at Cameron, Texas (the county seat of Milam County). His term of enlistment was "for the war." Cousin Mike Hale found this link to information on the Fifth Texas.
By 1868, William had married Carolyn "Carrie" Rogers, of Milam County (see photo of Carrie, below right). Carrie was born at Jones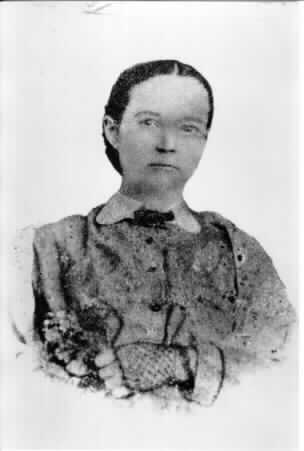 Prairie in November of 1848. She was the daughter of Armstead Rogers, a native of Montgomery County, Tennessee. Armstead Rogers served as a scout for the Republic of Texas during the Texas Revolution. Armstead's wife, Mary "Polly" Rogers, was the daughter of J. P. Jones, one of Milam County's earliest settlers. The Milam County community of Jones Prairie derived its name from its location on J.P. Jones' land grant.
William and Carrie Rice settled near Jones Prairie. They owned Milam County land as early as 1869. Their Milam County land holdings were located in the Whiteside and Jones leagues.
By 1891, William and Carrie had sold most of their Milam County land. Thereafter, they acquired and moved onto a 160-acre farm located near Blanket, in Brown County, Texas, where they resided until William's death.
Little is known about William and Carrie's life-style. William's granddaughter, Carolyn Rice, recalled hearing that William was not a churchgoer.
Some family members believed that William may have developed a drinking problem. Carman Rice Whitaker, daughter of William Rice's son George, heard that William's daughter Annie Rice Key had referred to William as "an old drunk falling off the porch." Children of Armstead Rice, William's son, believed that their father's dislike for alcohol was a product of William's habit.
However, Armstead Osborn, a nephew raised from infancy by William and Carrie Rice, had stated that he was not aware that William had any drinking problem. Armstead Osborn recalled that he and William made a weekly trip, every Saturday, to Zephyr to pick up supplies. William would give Armstead a dime; Armstead would buy and eat oranges until William returned with the supplies.
A February 17, 1899 entry from the diary of John Alexander Bailey, who married Carrie Rice's cousin (Fannie Barron), provides as follows: "Will Rice is supposed to have swallowed glass, but don't think anything serious will result." Nothing more is known about this incident.
William Henry Rice died on November 25, 1903. The cause of death was listed as Bright's disease (inflammation of the kidney) and cystitis (inflammation of the urinary bladder). William was buried at the Blanket, Texas community cemetery. Soon after William's death, wife Carrie and the children sold the Brown County farm.
Carrie was in poor health for some time prior to her death. A Blanket doctor, Dr. Cobb, had told her that her condition was not serious enough to justify an operation.
At some point Carrie returned to Milam County to obtain medical treatment. She died in a Cameron, Texas hospital on August 18, 1906 following an operation necessitated by a ruptured appendix. She is buried in Jones Prairie at the Little River Baptist Church Cemetery: her unmarked grave's location is not known.


Click here to return to the William Henry Rice main page.
Click here to go to my home page.